Annual Subscription Pricing
| | |
| --- | --- |
| 1 class | AUD $150 |
| 2-3 classes | AUD $250 |
| 4-5 classes | AUD $450 |
| 6-7 classes | AUD $650 |
| 8-9 classes | AUD $850 |
| 10-11 classes | AUD $1050 |
| 12-13 classes | AUD $1250 |
| 14+ classes | AUD $1450 |

HOW MANY CLASSES DO I INCLUDE?
PRIMARY SCHOOL PRICING: Based on the number of Year 6 classes PLUS the number of Years 5/6 classes.
(E.g. 1 year 6 class + 1 year 5/6 class = sign up for 2 classes.)
SECONDARY SCHOOL PRICING: Based on number of Year 7 classes. You can distribute to all of your incoming Year 6 students as well.

F-12 SCHOOL PRICING: Based on the number of Year 6 classes PLUS the number of Years 5/6 classes. You are of course also welcome to use with Year 7 but do not need to include these classes when working out class totals.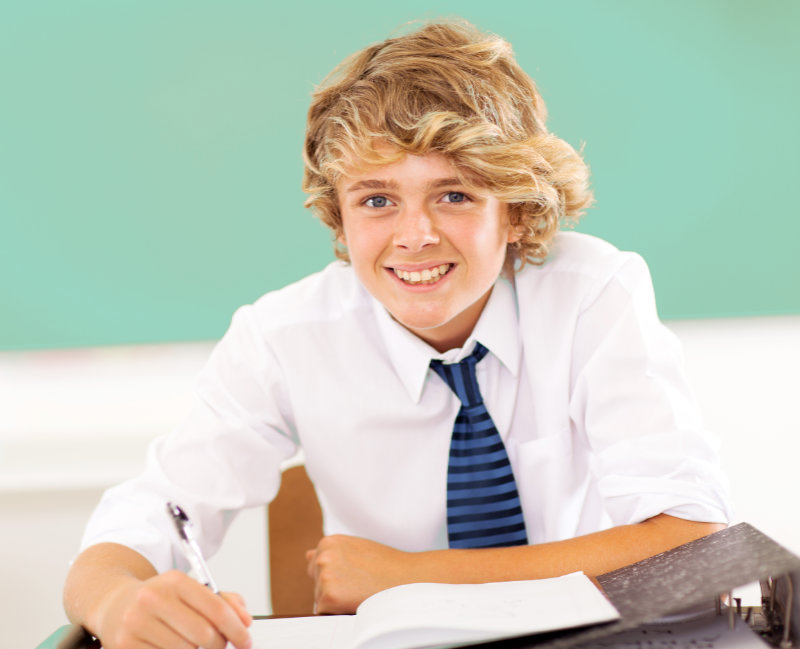 Our ABN is : 98 691 099 744
Our NSW Dept Ed Vendor ID is : 100494760
Click here to print a flyer that explains what is included in the guide and lists pricing. 
NOTES:
The pricing is based on the total number of Year 5/6 and Year 6 classes as the program can be used with Year 5 as well – particularly the parent resources and the worksheet sets for teachers to use with classes. In fact we would LOVE  schools to use it with Year 5 AND Year 6 as the earlier we can start building students' skills the better.
Secondary schools who wish to subscribe so that their incoming Year 6 families can have access should base subscription costs on number of Year 7 classes as this will be an indication of the number of Year 6 students and the bandwidth needed.
There is normally a joining fee of $150 in addition to the above class prices however this is currently waived for schools who sign up now.
Parents we do not offer individual subscriptions (scroll below you will see one of the reasons why). Instead send the link to this site to your school and encourage them to subscribe.
Current Special Offer: Subscribe NOW and you only pay the annual subscription fee as the joining fee for schools is currently waived.

---
Can parents subscribe to the guide?
Parents cannot purchase access to the guide, but parents can purchase individual components of the guide. Pricing for this is as follows, however it is much more cost-effective for schools to arrange access to the guide for their families. If a parent purchased all of the elements of the guide it would cost over AUD$150 per student, whereas school access to the guide works out at around $5 per student for most schools.
| | |
| --- | --- |
| Components of the guide: | For individual use only: |
| Parent Video Course | AUD $27 (click here) |
| Student Video Course PLUS over 50 pages of Handouts (activities, worksheets, templates) | AUD $47 (coming soon) |
| Parent e-book | AUD $17 (coming soon) |
| Preparing for High School Worksheets | AUD $27 (click here) |
| Goal Setting Worksheets for Primary School | AUD $27 (click here) |
| HELP Guide Starting Secondary School | AUD $7 (click here) |
| Teacher Video Course | not available |
| TOTAL: | AUD $152 |
Even a school with only two Year 6 students is better off subscribing to the guide! See below for the savings when schools subscribe for their families.
EXAMPLE OF SAVINGS OF PARENT COST VS SCHOOL SUBSCRIPTION COST:
Example (all costs in AUD)
Individual
School Cost (based on
class size of 20 students)

Saving if the SCHOOL subscribes instead of the parents

3 students
$456   (3 x $152)
$150

$306

18 students
$2,736   (18 x $152)
$150

$2,586

32 students
$4,864   (32 x $152)
$150

$4,714

56 students
$8,512   (56 x $152)
$250

$8,262

84 students
$12,768   (84 x $152)
$450

$12,318

129 students
$19,608  (129 x $152)
$650

$18,958

180 students
$27,360   (180 x $152)
$850

$26,510